So, its been an interesting weekend. Leah and I went to the Art Whino preview show last night in georgetown. The artist, Daniel Fleres was awesome, actually everyone was awesome. We met Shane
, the own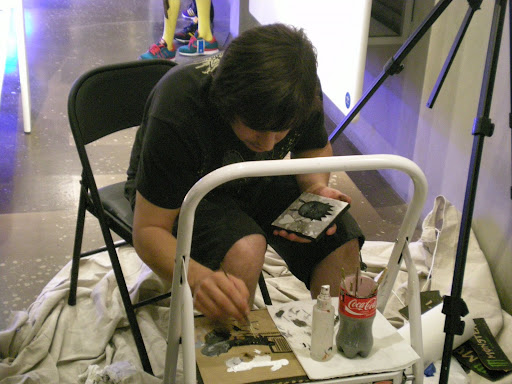 er of
Art Whino
, him and his delicious 'QUEENS' shoes, and Miguel
of
SoulT3ec
video, photography, and webdesign. Leah and I got our photos taken by the photographer from On Tap magazine, and once they go online, I'll link them. We met a few of Shane's incredibly creative and consistantly humble artists, everyone was so nice and talkative, and one of them, Alicia, had this fabulous hat that apparently she got in Austin Texas, Austin rocks. I had wanted to ask if she was down there for SXSW, but I think someone distracted us and it was all down hill from there. So, while we were out there, the deluge began.
Leah was on the phone with her boyfriend Ben and couldn't hear him inside, so she had to stand outside, and of course, me being the chatty crazy that I am ended up talking to everyone who came close to me. I also ended up buying a piece! Its called Devil/Angel by Daniel Fleres. It called to me, it was like, you need buy me, I'm a missing part of you and the art that makes you happy. I of course agreed, and now I'm the happy owner of Devil/Angel.
So, afterwards, went to the bar, had a shot and some beer, then hung out late night elsewhere. I woke up this morning thinking, this is going to be a blah, hurricane-style day with torrential rains. About 1.5hrs into work, my boss attempted to not compensate me for my hours properly, and proceeded to be rude about it, and if you know me, you know I've been dealing with her attitude problems and rudeness and derogatory issues for -months- now, so I quit. I'm now free as a bird and looking for part time work so I can focus on school. Yay school. More credits! I hope the rest of the weekend goes this swimmingly.
Leah,
Alicia
(the artist of the works behind us), and I. I look so frumpy!